Why You Should Wear Shin Guards
Precision shin guards are one of the most important pieces of sports equipment that an athlete can wear. They play an essential role in boosting the performance of sports players across the world.
Shin guards are worn to protect the front of your legs from kicks and tackles that we may encounter during combat sports. Outdoor life has a range of precision shin guards that are suitable for athletes playing all levels of sports. They are designed to fit the anatomical form of the leg, giving maximum comfort and performance. Precision Training provides sports equipment to the athletes in a number of championship clubs, including Burnley FC, Derby County FC, Leeds United FC, and Preston North End FC.
Why Are Shin Guards Essential For Some Sports?
Shin guards are worn during combat sports such as football, cricket, hockey, lacrosse, and mountain biking. Although shin guards don't guarantee players complete protection, they do help to reduce the risk of injury to the vulnerable areas of your shin.
A majority of shin guards come with a compression calf sleeve that helps to keep your shin guards in place when playing sports. These sleeves have a number of other benefits that offer athletes protection and comfort. They create pressure in your legs to eliminate built-up tension in the calf muscles and are made from breathable material that won't irritate your skin.
How To Fit Your Precision Shin Guards
Shin guards are available in a range of sizes from extra small to extra-large. The size of the shin guards you wear will depend on your height. To find the perfect fit you must first measure the distance from your ankle joint to the bottom of your knee. From this measurement, you can then choose an appropriate size from small, medium and large. If you find that you are in between sizes, it is a good idea to go for the largest size to ensure a comfortable fit.
It is essential that shin guards cover the area between your knee and ankle. Before purchasing shin guards you should know what height you are so that you can select a size that will fit you perfectly. This will offer you a higher level of protection during sports.



Our Range Of  Shin Guards
We supply a range of precision shin guards available in a variety of sizes and different colours. These include the ProMatrix Shin guards and the League Slip-in Shin Guards.
Shin guards can be wiped clean after sports using lukewarm water and should be dried naturally at room temperature. They should not be placed on hot surfaces, such as radiators, to prevent damage to the outer surface.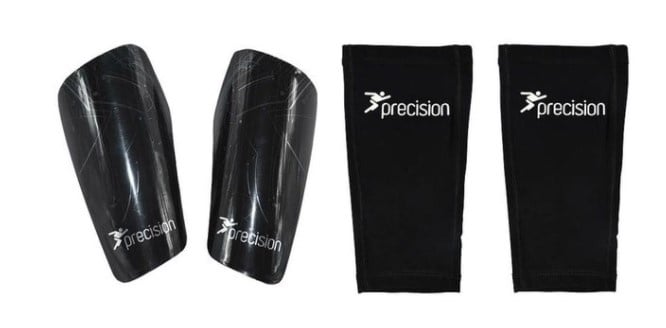 Precision pro Matrix Shinguards & Sleeve
Choosing The Right Shin Guard For You
We understand how important safety is during combat sports. Our team is available to answer questions on protective sports equipment and how you can find the right fit for you. 
Go straight to our shop if you know what you are looking for or give us a call or come in store and we will be more than happy to help you with your decision.